Свеженький Оспреюшка. "Armies of Russia's War in Ukraine". Автор Марк Галеотти. В бумаге £12.99. Желающим приобресть по ссылочке)))
https://ospreypublishing.com/armies-of-russia-039-s-war-in-ukraine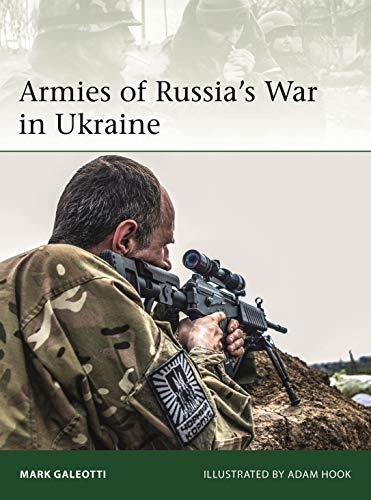 ABOUT THIS PRODUCT
In February 2014, street protests in Kiev and other Ukrainian cities led to the ousting of the Russian-backed President Yanukovych. The so-called Euromaidan Revolution saw many changes to Ukraine's constitution, but the violent reaction in the east and south of the country led to armed counter-revolution, unofficially backed by Russia.

This conflict is the essential example of Russia's new policy of 'hybrid warfare', which blends propaganda, misinformation, and the deployment of 'deniable' Special Forces and regular troops alongside proxies and mercenaries to achieve its strategic ends.

Using his extensive contacts in both Russia and Ukraine, and access to a mass of official and unofficial sources, Mark Galeotti presents a thorough and intriguing primer on all the forces involved in the ongoing conflict in Ukraine. Supported by specially commissioned artwork, he analyses both the progress of the war, and what it teaches us about Russia's current military capabilities.

CONTENTS

Introduction: brief overview of the complex relationship between Russia and Ukraine, and the ejection of President Yanukovych in the 'Maidan Revolution' of February 2014. * Taking Crimea: summary of Russia's seizure of Crimea from Ukraine, the forces involved, and the military lessons learned. * 'Hybrid War' in the Donbas: overview of the war's progress to date, and such incidents as the shooting down of Malaysian Airlines Flight MH17. * Russian Proxy Forces: local militias, volunteers, Cossacks and mercenaries; career of 'Igor Strelkov', 'defence minister' of the self-styled Donetsk People's Republic; the Vostock Battalion, Chechen veterans organized by the GRU; Russia's difficulty in controlling its proxies.
* Russian Regular Forces: the battalion tactical groups - order of battle; the battle of Debaltseve - a month-long conflict which obliged Russian regulars to intervene; the battle of Zelenopillya - destruction of Ukrainian mechanized units by Russian artillery. * Ukrainian Auxiliary Forces: volunteer militias bankrolled by oligarchs - orders of battle of volunteer battalions. * The battle for Donetsk Airport - the vicious four-month 'battle of the Cyborgs'. *Ukrainian Regular Forces: structure, equipment, tactics, and developing capabilities; Ukrainian Army order of battle; Ukainian Navy and Naval Infantry. * The Future ? Identifiable trends, e.g. drone-controlled artillery; blending of militias; intelligence; deniable regular forces; and Russia's use of mercenaries as part of 'hybrid warfare', in Ukraine and later Syria.